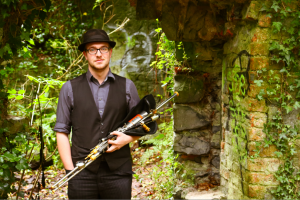 Simon has been playing music for most of his life and started to play different bagpipes from all over Europe at the young age of eight. After gaining experience in his own musical tradition in Bavaria and Austria and in various musical traditions all over continental Europe, he found his love for Irish Traditional Music and especially the Uilleann Pipes in 2010 and has not stopped playing since.
After being taught by German Uilleann Pipes master Mick Loos, Simon studied the BA program in Irish Traditional Music and Dance at the Irish World Academy of Music and Dance at the University of Limerick, Ireland, between 2016 and 2020. In the course of private studies and studies at the University of Limerick, he was able to get tuition from some of the major figures in 21st century piping, including: Blackie O'Connell, Padddy Keenan, Mickey Dunne, Tiarnan O'Duinnchinn, Cillian Vallely, Brendan Ring and many more.
Simon now is a highly acclaimed teacher of the instrument in his own right. He teaches privately and at workshop weekends all across Europe as well as for Comhaltas Ceoltóirí Éireann in Ballybrown, Co. Limerick, Irland.