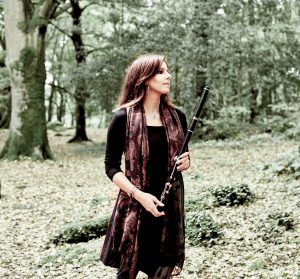 Steph Geremia is a force of nature in the world of Irish flute! Although born in New York, Steph has lived most of her life in the West of Ireland, where she is steeped in the Sligo/Roscommon style of flute playing. Steph is a founding member of the Alan Kelly Gang, with whom she's toured extensively and has performed with critically acclaimed artists including Lúnasa, The Cheiftains, Eddi Reader, Alan Kelly, John McCusker, Johnny 'Ringo' McDonagh (De Dannan) among many others.
2023 will mark the release of her third solo album, this time a star-studded vocal album, to add upon her two critically acclaimed flute albumes, including The Open Road (2009), and Up She Flew (2018).
Steph is no stranger to teaching flute, having taught master classes at University of Limerick, the Royal Conservatory of Scotland, Galway Music Academy, Athenry Music School, OAIM, and numerous festivals and camps around the world!
"as good an album of top-drawer Irish tradition as is imaginable"
RnR
"fabulous flute playing… a masterclass in Irish flute"
FolkWorld
"effortless… a peach of a record that demands your attention"
Living Tradition
"flawless… a must have for your collection"
Irish Music Magazine